Retinol has been a staple in the medicine cabinets of estheticians, dermatologists, and skincare junkies alike. Yet, so many avoid the cult-classic ingredient at the first thought of skin sensitivity or dryness. The truth is there can be a brief period of adjustment when introducing any kind of active ingredient into your skincare ritual. Because there is still quite a bit of mystery surrounding the ingredient, we'll break it down by decade to so that you can make an informed decision about the best way to incorporate it into your routine.
What Is Retinol?
First of all, what is retinol exactly? Retinol is a potent vitamin A derivative that is widely used in skincare products to help make the skin appear more youthful, plump, and dewy. It stimulates renewal on the top layer and beneath the surface of the skin by supporting collagen production, which helps to reduce the appearance of brown spots, discoloration, fine lines, and wrinkles.
It's usually recommended to start using retinol early as a preventative measure against these signs. If you have specific skin concerns, it's best to consult a dermatologist to determine which strength is the best to start with. However, there is simply no wrong time to introduce the ingredient into your skincare regimen.
How to Use Retinol in Your 20s
Retinol can be a powerful way to reduce the appearance of common blemishes and the discoloration left from superficial scarring in your 20s. Retinol is a great way to brighten and smooth the complexion. It can help maintain normal oil production and prevent dead skin cells from clogging your pores, leading to clearer skin.
If you're in your mid to late 20s and want to start using retinol in your skincare routine, it's important to start slowly. First, start with a low concentration of retinol to allow your skin to adjust to the ingredient. Use it every other night, and gradually increase the frequency to every night as your skin becomes more tolerant. Apply a pea-sized amount of retinol to your entire face after cleansing and toning, and be sure to apply it to dry skin. When skin is damp, it draws a product deeper into the dermal layers. Something active like retinol should work in the top layer of the skin to keep skin sensitivity to a normal amount. Some people find applying your moisturizer first and diluting the product can help the skin adjust and help to maintain hydration. Remember, in your 20s, less is more.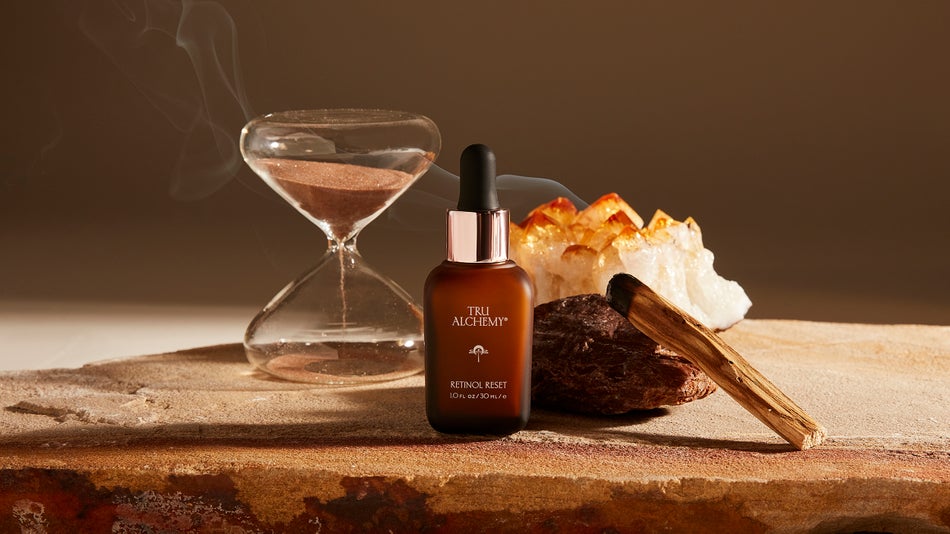 How to Use Retinol in Your 30s
By now, settling into your 30s, you may be more familiar with different actives, like vitamin C and alpha hydroxy acids, such as in our Tru Alchemy Glow Serum. These ingredients can all work in harmony; you just need to know what can be applied when and layered with what. Vitamin C is best applied during the day, while retinol does best at night.
In our 30s, our skin's natural exfoliation process slows down, which can lead to dullness. Retinol can help speed up this process leaving your skin looking radiant and healthy. Retinol can help to even out your skin tone and texture. It can reduce the appearance of skin discoloration, leaving your skin looking brighter.

We love to pair retinol with the superstar ingredients like niacinamide and white shiitake extract in Tru Alchemy's Spot Check. Together they will enhance clarity and tone. Overall, retinol is a fantastic ingredient to incorporate into your skincare routine in your 30s. It can help to keep your skin looking vibrant.
How to Use Retinol in Your 40s
As you enter your 40s, some may notice slight changes in your skin, such as increasing signs of fine lines and a loss of firmness. Retinol works by stimulating normal collagen production, giving you smoother, firmer-looking skin.
For a truly indulgent yet gentle retinol experience, we've blended a comprehensive nourishing formula that stimulates collagen renewal for a fresh complexion. Our Tru Alchemy Retinol Reset is a nourishing overnight serum that blends retinol, brightening bakuchiol, skin-soothing niacinamide, firming squalane, and plumping fruit extracts that promote a dewy complexion overnight and supports elasticity over time.
Incorporating retinol into your skincare routine in your 40s can be a skincare ritual game-changer.
How to Use Retinol in Your 50s and Beyond
Once you're in your 50s, skincare choices can really have an impact on your complexion. Almost every dermatologist swears by using a potent and strong retinol. You can use it nightly or give your skin a break between multiple days of other active ingredients like exfoliants. You can also apply retinol to other areas of your body, like your neck and chest.
After applying retinol, it's important to moisturize your skin. Retinol can be drying for some, so use a rich moisturizer like Tru Alchemy Quench Crème with bakuchiol, jojoba, and polyglutamic acid, which is a softening lipid. This can help to keep your skin hydrated and feeling dewy. Did you know that bakuchiol has similar benefits to the skin as retinol? Some use this ingredient as an alternative; however, using bakuchiol can actually enhance retinol's benefits.
Overall, using retinol in your 50s can help diminish the appearance and signs of aging and reveal your most vibrant complexion.
Tips for Using Retinol No Matter Your Age
♦ Start slowly at the beginning.
♦ Try the skin cycling method of using active ingredients and then allowing your skin to rest.
♦ Use a pea-sized amount
♦ Make sure to moisturize after applying
♦ Always wear SPF. It's important to wear sunscreen during the day when using retinol. Retinol can make your skin sensitive to the sun, so always protect your skin with sunscreen.
Final Thoughts
Retinol is a powerful skincare ingredient that can benefit your skin at any age, whether you're in your 20s, 30s, 40s, or beyond. Try our Retinol Reset formulated for any age, and let its magic-making benefits reveal brighter, dewier, and more radiant skin.