Of all the things we apply to our skin, now we can add colored light to the list! It's like a Lite Brite show for your face. While LED light might become the latest tech-savvy trend, it's nothing new. Estheticians and derms have long been using technology for in-office therapeutic treatments. However, now with newly available at-home devices, the key to rejuvenated and radiant skin might be DIY LED light therapy. Below are all the details on how to brighten your skin with light.
What Is LED Light Therapy?
LED stands for light-emitting diode. LED is a form of light therapy for your skin, face, and or body from a specific wavelength corresponding to a specific color of light. The color is most likely red or blue light. There are different methods used to expose the skin, such as masks, wands, and mats to lay on. This light therapy creates a biological reaction in the skin tissue and cells. LED was first used by NASA astronauts to help repair their skin and muscle before it became used in dermatologist offices for aesthetic purposes. This skincare technique is all about getting glowing skin as a rejuvenation therapy.
How Does LED Light Therapy Work on the Skin?
The LED devices combine different color wavelengths to create a specific hue. Once emitted, LED light is absorbed into the skin at different depths to stimulate cell repair. This enables the light to target certain skin issues. An at-home device will vary with strengths and have different effectiveness; this can be helpful for those with minor concerns or beginners. However, if you want clinical strength, it's best done by professionals like estheticians.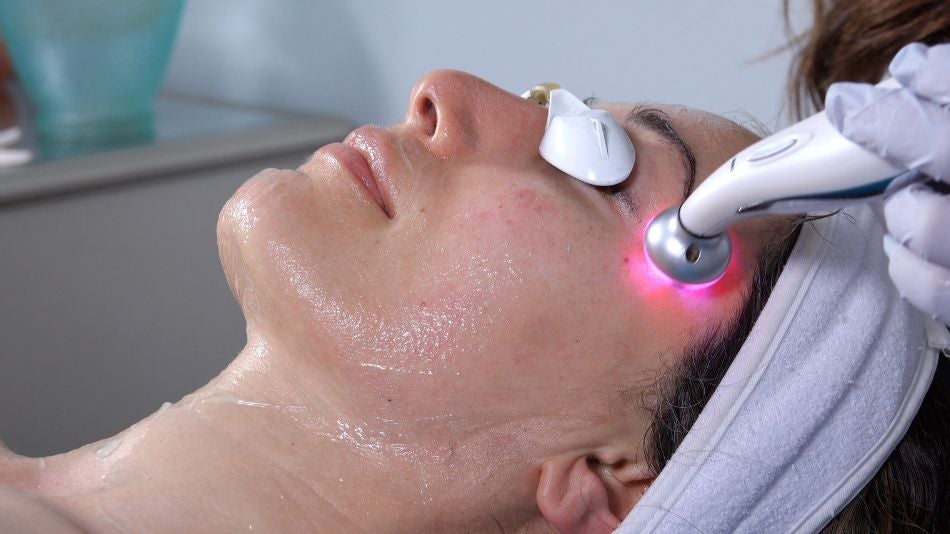 Benefits of LED Light Therapy
LED light therapy can help your skin maintain its smooth appearance and can add radiance. Red light therapy can promote cell growth, giving you a healthy, plump, youthful glow. Blue light therapy can help regulate bacterial growth on the skin and can help minimize oil production. This treatment works well for occasional acne, minimizing the appearance of discoloration and other skin concerns. Simply put, LED light therapy can help to:
♦ Reduce the appearance of fine lines and wrinkles
♦ Reduce the appearance of surface scarring
♦ Revent occasional common breakouts by reducing bacteria at the source
♦ Promote circulation
♦ Stimulates normal collagen production
♦ Brighten and support the appearance of even skin tone, texture, and clarity
Importance of Color in LED Light Therapy
Different colors will create different reactions. Some are soothing, and some are more powerful. The two most often used hues are red and blue.
Red light works to gently minimize oxidative stress and is good for age-related concerns. Red light is intended to promote blood circulation, bringing fresh oxygenated blood to the tissue to support your skin's normal production of collagen. Collagen loss tends to happen from normal aging and the sun. This can contribute to fine lines and wrinkles, making red light helpful for those who are looking to minimize the appearance of lines and wrinkles. The red light also has a calming effect on mood and can feel deeply soothing. The blue light has powerful cleansing properties to help breakouts by maintaining healthy oil production levels.
Those are the two popular colors used, but other devices use additional light, such as a green light which works on the appearance of discoloration and calms the skin.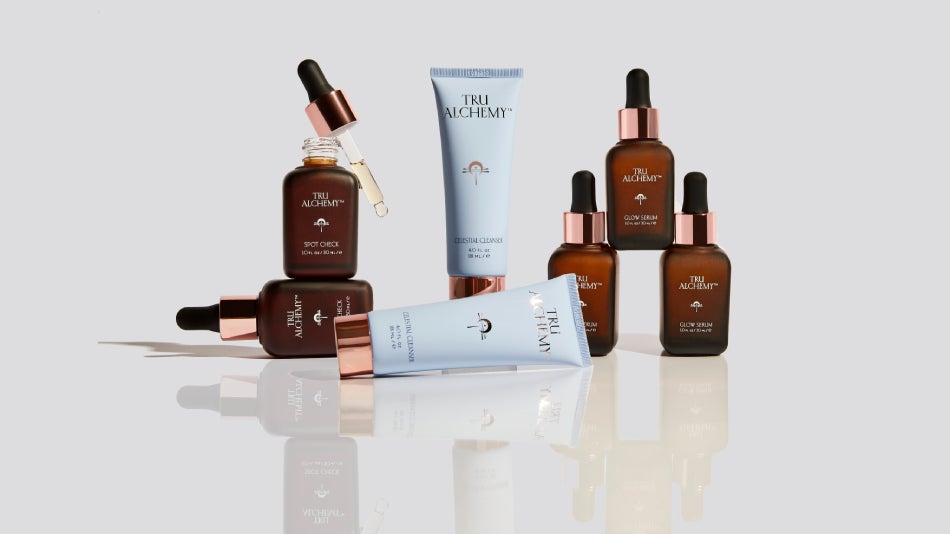 What Aftercare Should You Do Before and After Light Therapy?
As with any skincare technique, it's best to prep the skin beforehand. You'll want to start with a fresh face. We love using our Tru Alchemy® Celestial Cleanser for a gentle cleanse. After your light treatment, stay out of the direct sun for 1-2 days, apply SPF, and you may want to apply cold packs if needed.
It's best to consider LED therapy as secondary to a good daily skincare routine. We love including LED therapy as a pampering treatment but rely on the potent ingredients applied in Tru Alchemy's Glow Serum for lasting and continual radiance. If the appearance of dark spots is your main concern, LED can help, but we recommend it paired with Tru Alchemy's brightening Spot Check. It's loaded with niacinamide and white shiitake extract to even skin tone and brighten for a dewy complexion.
A Bright Year Ahead
If you're looking to elevate your skincare with tech devices, LED light therapy might be something for you to consider. While Tru Alchemy® is primarily powered by the magic of botanicals, we always look out for innovation in skincare. Besides, even the most plant-oriented skincare minimalist can see the uniqueness of LED skincare therapy—it's an almost no-waste product, does not require water or cultivation, has little impact on the environment, and encourages the skin to naturally glow. A win-win! The new year is looking bright.