After the luminescent exuberance of summer, when the weather turns chilly and crisp, there's a distinct feeling of mysticism and magic in the air. You may find yourself reaching for extra layers and a spiced cider to keep warm, but...are you also adding an extra layer of moisture to your skin?
Products that worked like a charm in June might not cut it come October. Sudden weather changes and dry winds can also spark sensitive skin flare-ups and strip skin of its protective barrier. So you'll want to prepare your skin to withstand the elemental conditions that lie ahead.
Like autumn, Tru Alchemy® can bridge the gap between the elements and a little magic. To help you transition your skincare routine and shift your mood with the witching season, we're sharing the best tips to keep skin vibrant through the fall.
Fall Weather Skincare Tips
Born to Be Mild
After a long day, you just might want a hot steamy shower to unwind, but beware that hot water can strip the skin of its natural oils. Your skin will be much happier with a mild temperature shower, or better yet, take a soothing bath. For a mess-free bath, steep thinly sliced apples and cardamom, and boiled water in a French press, and then pour them into a bath. You can add coconut milk and a dash of Himalayan salt, light a candle, and set an intention of gratitude for the earth's bounty.
Exfoliate
Our skin is often rough and dull during colder months, so you'll need to dissolve away dead skin to promote radiance. It's best to avoid physical exfoliators that contain harsh textures like ground shells, which can cause redness and micro-tears in your skin. Instead, try Tru Alchemy's Glow Serum with gentle lactic and glycolic acid that will brighten your complexion. Well-exfoliated skin can also absorb moisture better and allow active ingredients to be more effective.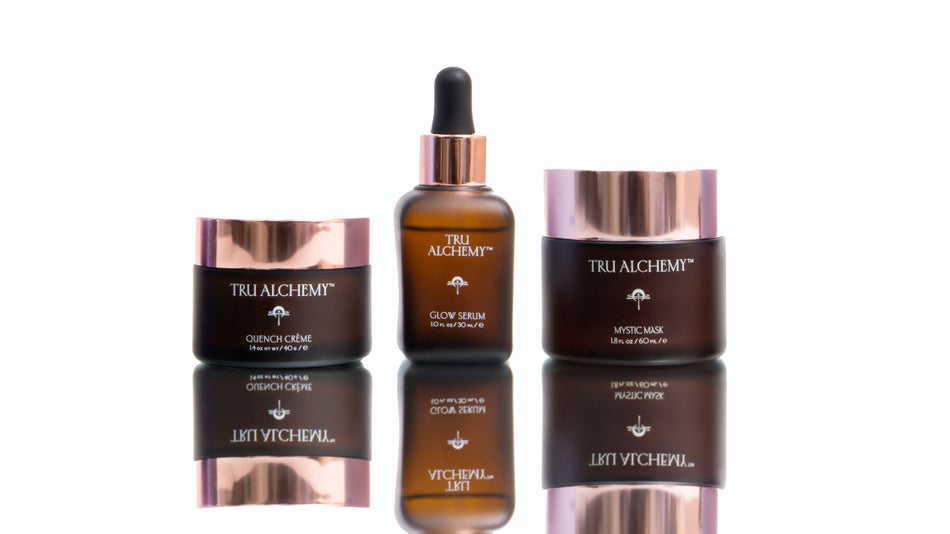 Use a Humidifier
There are few autumnal treats better than sitting by a toasty, crackling fire. Unfortunately, dry indoor heat can make your skin parched. Luckily, there's a simple solution that will combat the effects of indoor heating sources. Use a humidifier to infuse moisture into dry indoor air and hydrate your skin from the inside out! Breathe into your chakra and lessen your stresses. Of course, stay internally hydrated by drinking plenty of liquids like water and herbal tea throughout the day.
Get Your Beauty Rest
Under a harvest moon, sleeping is essential when it comes to healthy skin. Well-rested skin will appear rejuvenated because your body repairs itself during sleep and produces new collagen. This is your sign to reset your internal clock with daylight saving time and tuck into bed earlier. This is also a great opportunity to sneak in more specific treatments to your skin with an overnight mask. Choose masks best suited for your skin type, such as moisturizing masks, etc. You can use Tru Alchemy's Mystic Mask as an all-over mask or a spot treatment to detox and cleanse.
Layer Your Skincare
If you implement one thing, know the focal principle of transitional weather skincare is maintaining moisturized skin. So, think of applying your skincare like outerwear. Just like you need to layer your clothing to insulate body heat, layering your skincare can prevent trans-epidermal water loss. A good rule of thumb is to apply the lightest to heaviest products.
On slightly damp skin, apply watery products like humectant serums that pull water from the air and hydrate skin like a sponge. Then moisturize with rich emollient creams like Tru Alchemy's Quench Crème and follow with an optional but recommended final step, using occlusives, aka heavy balms. Occlusives are oils and balms that form a layer on the skin and physically block water from escaping.
An ideal transitional weather regimen contains all of these layers. This allows you to address multiple skin concerns with active ingredients at the same time. The Quench Crème has key ingredients like squalene, hyaluronic acid, bakuchiol, and botanical oils. When used in tandem, they can soothe skin, deeply hydrate, and support the skin barrier.
Don't Forget Hands and Lips
Applying a moisturizing lip balm and hand cream will help exfoliate dry, cracked lips from blustery days. We like to get into the spirit of the season with balms and salves with shea butter and delicious scents like ginger and anise.
Autumn represents a time of renewal and transformation. According to ancient traditions, the equinox itself is an auspicious time where the gap between the natural and spiritual world is thought to be thinly veiled. Therefore, it's a potent time for spells, incantations, and potions, presenting us with the opportunity to transform ourselves too.