The holiday season is full of joy, cheer, and celebration, it can also feel stressful during this hectic time of year. Between family gatherings, running to multiple stores to find the perfect gifts, the holiday season can leave you feeling depleted and fatigued. This seasonal stress combined with chillier, drier weather takes a toll on our skin as well.
How do we prioritize much-needed self-care during the holidays? By implementing a holiday skincare regimen in which the benefits are two-fold. Creating a meaningful skincare routine can help you stay centered and feel rejuvenated. So, why not go the extra mile by setting a mood and using your time for a mini-spa moment right at home!
Having radiant skin can brighten your mood and make you feel like you're glowing from within. What better gift than to give that feeling to a loved one?
Here are some skincare wellness and at-home-spa day gift ideas to pamper yourself and your loved ones. We've got stocking stuffers and gifts that will WOW!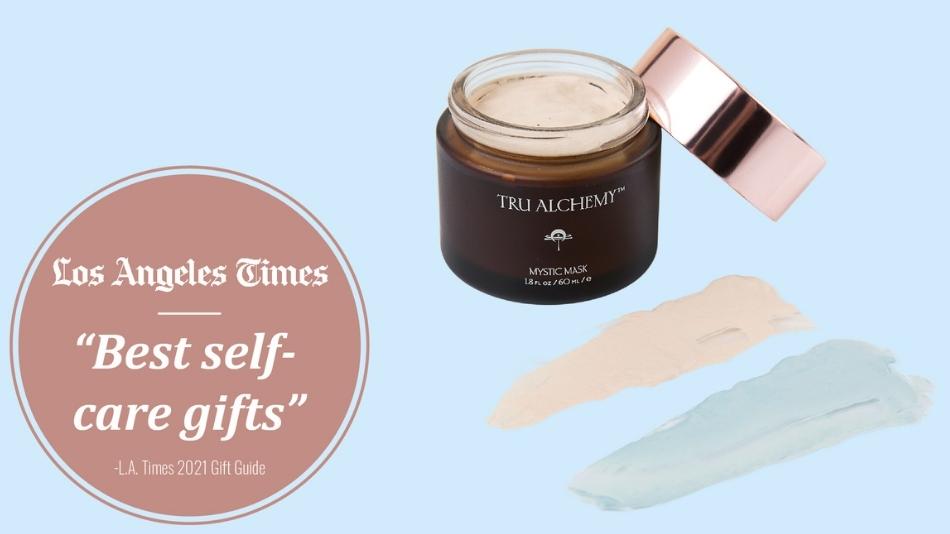 Gift Ideas
The Mystic Mask From TRU ALCHEMY®
The Mystic Mask is a must-have for anyone on your list this holiday, but don't just take our word for it! Check out what the Los Angeles Times had to say about our favorite beauty hack in their own holiday gift guide, "The 29 best self-care gifts for your highly stressed friends (or yourself)."
"You know what would be a great stocking stuffer for someone who could use a break? The Mystic Mask. It works on two tracks: Kaolin clay and charcoal whisk away dirt and impurities, making way for a soothing and hydrating cocktail of vitamin C, skin-boosting niacinamide and betaine, and all-the-rage hyaluronic acid. Plus, it changes colors as it works, going from a vanilla hue, to a blueberry one. A perfect excuse to slather some on, get a bath running and just relax after a long day."
Gua Sha Tool
A gua sha is a hand-carved tool often made from rose quartz or jade for facial massage. You can integrate using a gua sha in your daily routine to help promote absorption of a skincare product like a serum or moisturizer and stimulate blood flow. This is essential for radiant, healthy, and vibrant skin. Rose quartz itself is known for having a calming energy, which helps balance the mind, body, and spirit. The stone also represents love, making it a perfect accessory for self-care.
To use, apply any facial oil or serum. We love using it in the morning with our Tru Alchemy® vitamin C-packed Glow Serum to brighten our complexion and clear our minds for the day. Lightly drag your gua sha in long, sweeping motions across cheeks, forehead, chin, nose, and jawline. The unique shape allows for smooth strokes to promote healthy lymphatic flow. It's a simple but luxe essential to your morning or evening skincare regimen.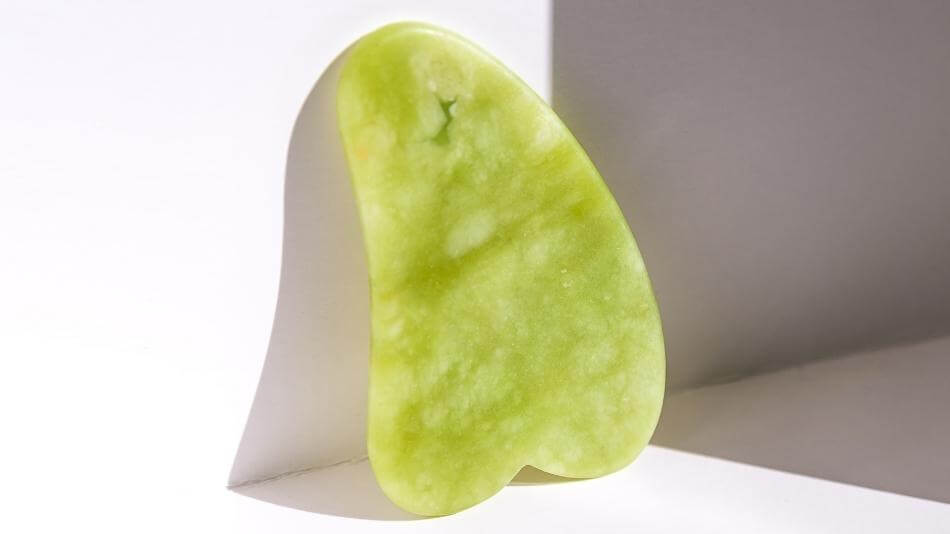 Silk Sleeping Eye Mask
Give the gift of beauty sleep with a silk sleeping mask. We already know the numerous benefits adequate rest has for our health, and it's been shown that sleeping in complete darkness improves our ability to maintain deep sleep.
Additionally, you'll want to make sure to use silk, which won't absorb your skincare treatments and will act as a gentle buffer between your skin and pillowcase to reduce skin creasing.
Creating the habit of using an eye mask every night will make a huge difference in your ability to fall asleep quicker and avoid disrupted sleep. When fully rested, we're at our absolute best, thus improving our overall wellness.
Cooling Facial Globes
Cooling globes are chilled wands used in facials to soothe redness and promote circulation. Use them to help firm your skin, decrease puffiness, and soothe irritation. They can reduce tension and provide a certain zen. We love pairing them with Tru Alchemy's Eye Elixir for a quick wake-up and to refresh our complexion.
Bath Salts and Soaks
You might think of this especially busy time as not ideal for an indulgent bath, and you may barely be getting a quick shower in-between running around. However, there's a reason soaking in hot water has been done across cultures since ancient times. Enjoying the relaxing benefits of a steamy bath with an invigorating scent is one of the most enduring forms of alchemy. A soothing bath, perhaps while wearing a kaolin clay face mask like our Mystic Mask, is where true magic meets wellness.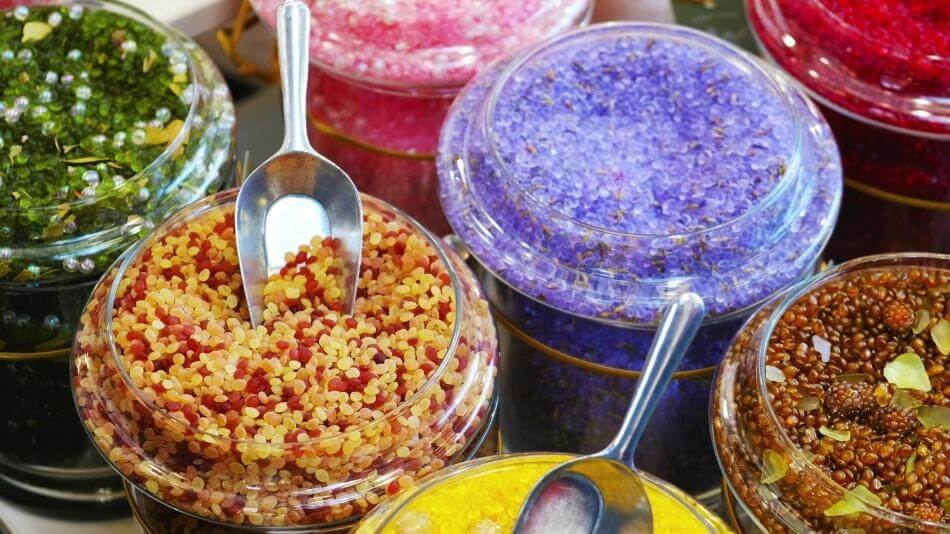 Add a handful to running water, lay back, and allow your mind and body to absorb the restorative benefits of the herbaceous mineral salts. We love salts with aromatic wintery scents like hinoki, eucalyptus, and yuzu to calm your mind and purify your skin for a youthful glow. Create the ultimate holiday relaxing bath to relieve tension and provide a soothing end to your day throughout the colder months.
Meditation Baoding Balls
Baoding balls have a use for everyone as they lower everyday stress and encourage relaxation. They'll serve as a visual reminder to slow down and be in the present moment with a simple meditation accessory. Best of all, they're easy to use for those new to their meditation practice. Sit as you would to meditate and focus on your breath. Hold them both in one hand and gently rotate.
They're often made of metal and have calming chimes inside or are sometimes found made of quartz or jade. Having ones made of crystal or stone is particularly helpful for any work that involves bringing the mind, body, and spirit into harmony and balance. This meditative practice is a good accessory to manifest your dreams and intentions for the new year.
Essential Oil Diffuser or Scented Candle
In preparation for your skincare ritual, create a super-serene atmosphere in your bathroom with an essential oil diffuser and or scented candle to fill your space with decadent scent. The flickering light and dispersed essential oils are a perfect way to transform any space. Setting the mood will instantly shift your senses and state of mind to fully immerse yourself in your skincare and wellness.
Final Thoughts
The perfect gift involves two components. One, it is something the recipient would want or use but might not buy for themselves as it may feel extravagant or self-indulgent. The second is a gift in which the recipient is reminded of your affection, love, or care.
Adding just a few simple companions to your wellness practice is often about creating new small habits. So this year, gift yourself and others permission to prioritize self-care as essential and to nourish your body and spirit.